Venue & Hospitality
Radisson Blu Hotel, Beijing 6A East Beisanhuan Road, Chaoyang District, 100028 Beijing, China
Conference Dates: August 10-11, 2017
Hotel Services & Amenities
Audio/Visual Equipment Rental.
Business Center.
Business Phone Service.
Complimentary Printing Service.
Express Mail.
Fax.
Meeting Rooms.
Office Rental.
Photo Copying Service.
Secretarial Service.
Telex.
Typewriter.
Video Conference.
Video Messaging.
Video Phone.
ATM.
Baggage Storage.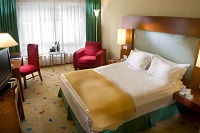 Transportation
Radisson Blu Hotel, Beijing 6A East Beisanhuan Road, Chaoyang District, 100028 Beijing, China
About City
BEIJING....THE CAPITAL CITY OF CHINA....
GEOGRAPHY….
Talking about the geography of Beijing, (in short Jing), is a metropolitan city in Northern China and the capital of China lying 70 miles (102 km) towards the west of Bohai Sea, borders Hebei Province to the north, west, south, and for a small section in the east and Tianjin to the southeast. Beijing beautifully blends ancient and modern Chinese cultures. A cosmopolitan metropolis combines both the history and modernity is what you can experience on Beijing tours.
HISTORY…
The city was established over 3,000 years ago and was called Jin City during Western Zhou Dynasty (11th century BC - 771 BC). Ever since Emperor Qin united China in 221 BC, Beijing has played an important role in north China. It was the capital city during the reign of Liao (916-1125), Jin (1115-1234), Yuan (1271-1368), Ming (1368-1644) and Qing (1644-1911) dynasties. During these 800 years, 34 emperors lived and ruled here. The world renowned Forbidden City was built during this period
PEOPLE & CULTURE OF BEIJING….
Coming to the traditions & culture….Early in the morning, Beijing's elderly can be seen in mass heading to Beijing's parks, and the historical Temple of Heaven to do their morning exercises. They can be seen in groups practicing Tai Cai performing martial arts, doing Yangge (a local dance), and playing with Beijing's tops. This is a traditional site that can be seen throughout China, but with some unique differences.
ECONOMY OF BEIJING…..
Beijing's economy ranks among the most developed in China with a nominal gross domestic product (GDP) CN¥1.95 trillion (US$314 billion) in 2013's. It was about 3.43% of the total country's output, and ranked 13th among province-level administrative units.